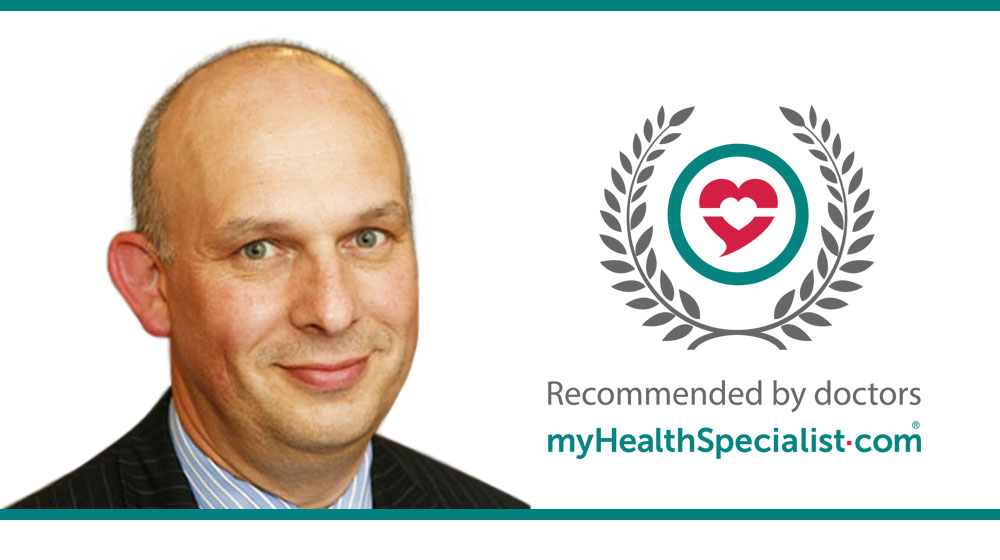 Why did you choose your particular specialty?
All through my training I used to ask the consultants I was working with how they ended up doing what they were doing. I never really got a good answer from any of them. I got the impression that most never really had a plan, but just took whatever opportunities were presented to them. I tried to make a more conscious decision! Training in surgery was very different 20 years ago, compared with now. During what was then called "the registrar years" you would spend 6 months at a time in several different specialties. So, I spent 6 months each doing breast and endocrine surgery, vascular surgery, colorectal (bowel) surgery, liver surgery and thoracic (chest) surgery. As I approached the end of this period of my training, I sat down (metaphorically) with myself and looked at what I had enjoyed the most, and what others had said I was best at. That is how I decided to go into breast cancer surgery (whilst maintaining my general surgical role as well). In those days, all trainee surgeons also had to spend 2 years doing research and I got a job studying the molecular biology of breast cancer. This not only reinforced my decision, but has also been extremely useful as advances have been made in the understanding of the genetic basis of breast cancer.
What do you enjoy most about your job?
Working within a team, including surgeons, pathologists, radiologists, oncologists, specialist nurses and anaesthetists, not to mention all the "back room staff" that keep me in order! Breast cancer surgery can be surgically, emotionally and intellectually challenging.
What one thing do you wish every member of the public knew?
That there is so much more in medicine that we don't know and understand, than we do!
What three traits define you?
Obsessional, empathic and sometimes a bit emotional!
Who is your inspiration?
I don't really have one person. What inspires me is seeing ordinary people making the most of their abilities and doing extraordinary things to make a difference.
What accomplishment in your life are you most proud of?
Personally, of course, my family. My wife is a GP and is absolutely "the great women behind the man"! I have two grown-up daughters; one is a vet, the other a science teacher. It is sad, but true, that I am pleased neither decided to go into medicine!
Professionally, I am proud to be part of one of the leading, private, breast cancer clinics in the country and to chair the Medical Advisory Committee at 108 Medical.
In the NHS, whilst still a trainee, I set up, and still run, the first, and probably most successful independent (but still purely NHS) local anaesthetic "see and treat" Minor Surgery Unit. It is still treating over 1000 patients a year after over 20 years! Also, I was a founder member of the Essex University Biomedical Sciences Institute, which was founded to encourage medical research carried out by doctors in training, and I remain an honorary senior lecturer at Essex University.
If you could do another job for just one day, what would it be?
An astronaut! I would love to be able to orbit the Earth, just to see how it looks from space. I am sure it gives an entirely new perception on the world and our place in the universe. I suppose there is still hope, John Glenn was 77 when he flew on the space shuttle in 1998!
What advances in medicine are you most excited about?
The advances in genetic analysis of cancers means that we are approaching the age of truly individualised medicine and breast cancer treatment has led the way in this field. The original personal intervention might be considered to be the use of tamoxifen in those breast cancers that were sensitive to oestrogen (about two thirds). This has now moved on to being able to analyse individual breast cancers to see if chemotherapy will be helpful (we are discovering that in many cases where previously we would give chemotherapy it will actually have no benefit) and even to determining which particular chemotherapy drugs will work in an individual tumour, and equally importantly, which ones won't.
What (health) app would you most recommend?
I like to keep things simple, so I would go for any pedometer app to count your steps. If you don't reach your 10,000 in a day, it's time to take the dog for a walk!
---


Mr Simon Marsh, Consultant Breast Surgeon
Book an appointment with Mr Simon Marsh
Read Mr Simon Marsh's latest article 'From alcohol and deodorants, to the contraceptive pill and HRT: What are the real risks for breast cancer?'