Dr Caroline Houlihan-Burne MB BS, MRCGP, DCH, DRCOG, MDCH, BSCH (Assoc.)
Clinical Hypnotherapist
MB BS, MRCGP, DCH, DRCOG, MDCH, BSCH (Assoc.)
Dr Caroline Houlihan-Burne
Clinical Hypnotherapist

MB BS, MRCGP, DCH, DRCOG, MDCH, BSCH (Assoc.)
MB BS, MRCGP, DCH, DRCOG, MDCH, BSCH (Assoc.)
Dr Houlihan-Burne is a Clinical Hypnotherapist
What is clinical hypnotherapy?
Video information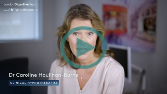 What is clinical hypnotherapy?
Areas of expertise
Anxiety both generalised and specific (performance, social, health)
Panic attacks
Sleep problems
Confidence and low self-esteem
Depression
About Dr Caroline Houlihan-Burne
GMC number: 4098373
Year qualified: 1994
Place of primary qualification: St Mary's Hospital Medical School. London
Dr Caroline Houlihan-Burne is a GP and a Clinical Hypnotherapist. She undertook her medical training at St Mary's Hospital Medical School, now part of Imperial College, London, followed by General Practice training both in London and in Buckinghamshire. She worked as an NHS GP in Buckinghamshire for 17 years followed by several years in the private sector.

Dr Houlihan-Burne has always been interested in the interaction of physical symptoms with the mind and after initial skepticism undertook a Medical Diploma in Clinical Hypnosis at the London College of Clinical Hypnosis. She finds hypnosis to be a gentle but powerful tool to help people make changes in any aspect of their life and a useful addition or alternative when more conventional methods fail to give a benefit. She finds the combination of medical knowledge with the extensive experience of seeing and talking to patients over the years is invaluable in my hypnotherapy practice in helping to get to the root of the issue or problem to be addressed.

After 20 years working as a GP in the NHS and the private sector, Dr Houlihan-Burne has taken a break from General Practice to focus on Clinical Hypnotherapy. She offers hypnotherapy appointments at London Digestive Health, London W1G 8EA, at OSD Healthcare in Hemel Hempstead HP2 7YU and also at her home in Buckinghamshire.
Areas of expertise
Anxiety both generalised and specific (performance, social, health)
Panic attacks
Sleep problems
Anger management
Confidence and low self-esteem
Stress
Chronic fatigue syndrome
Stuttering
Exam nerves
Depression
Bruxism
Post-traumatic stress disorder
Fears and phobias (flying, needles, dental, vomiting)
IBS
Migraine
Pain management
Tinnitus
Menopausal symptoms
Infertility
Pregnancy and labour
Breaking unwanted habits (smoking, drinking, nail biting, trichotillomania)
Weight loss
Lack of confidence/lack of self esteem
Bed wetting
Skin conditions
Obsessions and compulsions
Snoring
Public speaking
Sports performance
Emotional problems
Frequently asked questions
What are the common symptoms that your patients tend to present with?
The condition that I see more than anything is anxiety. Mostly, it's generalised anxiety or health anxiety. I also see a lot of social anxiety and performance anxiety.
I see a lot of people for sleep problems and irritable bowel syndrome who do really well with hypnosis. Many other medical conditions respond well to hypnotherapy such as menopausal symptoms, tinnitus, pain, teeth grinding, globus and migraine.
I see a lot of people with fears and phobias and the most common presenting ones are fear of flying, needle and dental phobia.
I also see people who want to stop smoking, lose weight and those who want to cut down their drinking. I see quite a lot of people for depression, as well as issues with low confidence and low self-esteem.
Often, people come with habits they want to break, such as nail-biting, hair pulling, thumb sucking.
What are the treatments that you're able to offer your patients?
I'm really happy to talk with patients beforehand if they want to find out whether hypnotherapy will be suitable for them or not. My appointments are an hour long. I explain to patients about hypnosis, what it entails and how it works.
We talk about the issue that they've come with, and how it is affecting their life and find out what the goals for treatment are. Then we do the actual hypnosis part. It mostly tends to last about 20 minutes, although it can vary. I record that session and email it to patients so they can listen to it at home and they find that really useful.
It's personalised and tailor-made for them. I advise they listen to it again when they have quiet time during the day or before they go to bed at night. Some people like to listen to it when they're on the train. Listening to it again helps reinforce and embed the suggestions into the unconscious mind, so day by day people find they notice positive changes in how they're thinking, feeling and behaving.
It varies from patient to patient how many times I see someone. About 50% of people, I only see once. Once they have the recording, they find that that's enough to get them on the road that they wanted to be on. Otherwise, I see patients for two to three sessions. I rarely tend to see someone for more than three sessions.
What are your areas of sub-specialist interest?
I also treat children from the age of seven upwards. I see a lot of children and teenagers. There are a lot of hypnotherapists who won't treat children. Having done a paediatric job in my general practice training and 20 years as a GP, I feel really comfortable treating children. They respond really well to hypnosis and often only need one session.
With the younger children, it's often about confidence, anxiety, sleep problems, worries about food, missing parents, among others.
I see lots of teenagers with anxiety, panic, depression, exam stress and social anxiety. I also see a lot of teenagers with a fear of vomiting. They usually have anxiety causing physical symptoms such as a feeling in the pit of their stomach that they interpret that as feeling sick which makes them more anxious. They respond well to hypnotherapy.
At least, 40% of my workload is seeing the under 18 years of age demographic.