Miss Ghada Salman MBChB, MSc, FRCOG
Consultant Gynaecologist
MBChB, MSc, FRCOG
Miss Salman is a Consultant Gynaecologist
GP Webinat - Polycystic Ovaries
Video information


Miss Salman is a recommended Consultant Gynaecologist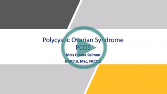 GP Webinat - Polycystic Ovaries
Areas of expertise
Early pregnancy and early pregnancy scanning
Hysteroscopic surgery
Laparoscopic surgery
Gynaecology scanning
Ovarian cysts


Make an appointment
Address
Royal Marsden Hospital NHS Foundation Trust
Fulham Palace Rd, London, SW3 6JJ
About Miss Ghada Salman
GMC number: 6038267
Year qualified: 1994
Place of primary qualification: Al-Nahrain Medical University
Miss Ghada Salman is a Consultant Gynaecologist at University College London Hospitals NHS Foundation Trust. Her clinical interests are in menstrual disorders and fibroids, ovarian cysts and Well Women Health Screen. Her special interests are in ambulatory gynaecology, minimal invasive surgery, early pregnancy and gynaecological imaging. She is highly skilled at performing gynaecology and early pregnancy ultrasound scans including 3D scans for endometrial pathology, fibroid mapping, adenomyosis, urogynaecology and ovarian tumours. She is also an expert in administering fertility scans including follicular tracking, uterine anomalies and tubal patency test (HyCoSy) using 3D technology.

Miss Salman qualified in medicine from Al-Nahrain Medical University, Iraq in 1994. After completing her training in North West Thames London hospitals including registrar posts at Queen Charlotte's and Chelsea and Westminster hospitals, she was appointed as a Consultant Gynaecologist at University College London Hospitals in 2011. She completed an MSc in the Ultrasound of Gynaecology and Early Pregnancy at Kings College, London in 2013 and was awarded Fellowship of the Royal College of Obstetrics and Gynaecologist in 2017.

Miss Salman is a member of the British Society for Gynaecological Imaging and has published and presented extensively on early pregnancy, gynaecology ultrasound and endoscopic gynaecology both nationally and internationally. She has also authored many scientific chapters and papers. She is a speciality trainee clinical and educational supervisor as well as medical students' teacher at University College London Hospital.

Areas of expertise
3D ultrasound scans
3D scans for endometrial pathology
Adenomyosis
Amenorrhoea
Ambulatory gynaecology
Abnormal bleeding
Benign gynaecology
Bartholin's cyst
Contraception
Cervical smear screening
Early pregnancy
Early pregnancy scanning
Endoscopic surgery
Endometrial biopsy
Fibroids
Fibroid mapping
Follicular tracking scans
Gynaecology scanning
Gynaecological imaging
Hysteroscopic surgery
HyCoSy using 3D technology
Hysterectomy
Insertion of IUCD
Laparoscopic surgery
Laparoscopic hysterectomy
Minimal invasive surgery
Menstrual disorders
Menorrhagia
Myomectomy
Ovarian tumours
Ovarian cysts
Pelvic infection screening
Pipelle
Pelvic pain
Sub-fertility
Tubal patency
Urogynaecology
Uterine anomalies
Well women health screen
Professional memberships