Why did you choose your particular specialty?
I often think that it was gastroenterology that chose me. It appeals to my desire to work with patients of all ages, have access to a great mix of medical treatments and the added benefit of becoming an endoscopist. Gastroenterology is also a really big specialty and has allowed me to follow my interests in sub-specialising in nutrition.
What do you enjoy most about your job?
I am privileged to work at the national center for many sub-specialties of Gastroenterology at St Mark's Hospital. This keeps me at the cutting edge of gastroenterology treatments and access to colleagues who improve my knowledge and skills all the time. These I can use to benefit my patients, which gives a great deal of job satisfaction.
What one thing do you wish every member of the public knew?
As a wise man once said, everything is temporary. We can take comfort in that in our dark times and it helps us to appreciate the good times more.
What three traits define you?
Honesty
Motivation
Achieving a good work-life balance
Who is your inspiration?
People who do not allow great adversity to rule their life. I see examples of this in my work all the time and I have great respect for patients and family members who bear small and large hardships with dignity and succeed with humility.
What accomplishment in your life are you most proud of?
Making my parents proud has brought me great deal of joy. Next will be the kids, a bigger challenge I fear!
If you could do another job for just one day, what would it be?
Astronaut – never grew out of that!
What advances in medicine are you most excited about?
Personalisation of treatments is starting to become a realistic option in many fields of medicine including gastroenterology. For example, the ability to use a person's genetics to tailor treatments with much higher chances of success and lower side-effects is the ideal solution. This is becoming a standard part of treating gastroenterology cancers and will become common practice in other conditions such as inflammatory bowel disease too. I think this is a very exciting development.
What (health) app would you most recommend?
Citymapper – I don't leave home without checking for the fastest route to any new destination, especially around London. The satisfaction of an extra few minutes at your destination or back home is priceless.
---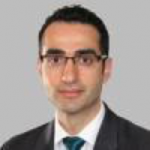 Dr Mani Naghibi, Gastroenterologist
Read Dr Mani Naghibi's latest article 'Heartburn: Symptoms, causes and treatments'