2018 has seen London Bridge Orthopaedics (LBO) run several consultant-led events, sharing their expertise with GPs and physiotherapists in the wider clinical community. LBO is a team of top consultants, surgeons and physiotherapists at London Bridge Hospital who provide a high quality service for patients requiring medical attention for complex joint problems, reduced mobility and sport-related injuries.
Here is a summary of what they've been up to so far this year:
CPR TRAINING:
This year was kicked off with an LBO-sponsored CPR training session for the staff from Elm House (Beckenham) and Cator Medical Practice (Kent), giving a particular confidence boost for non-clinical staff. On the same day,
Mr Joydeep Sinha
delivered a Lunch & Learn at South View Lodge (Bromley) covering a Q&A session on various shoulder and elbow conditions, including presenting symptoms and management.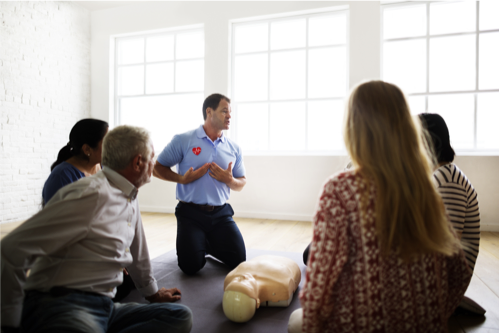 LBO sponsored another CPR training session following this to a group of GPs and school nurses from Sevenoaks. This training had a focus on adult and paediatric basic life support, including the use of defibrillators and management of anaphylaxis. The successful session left attendees with higher confidence in delivering CPR.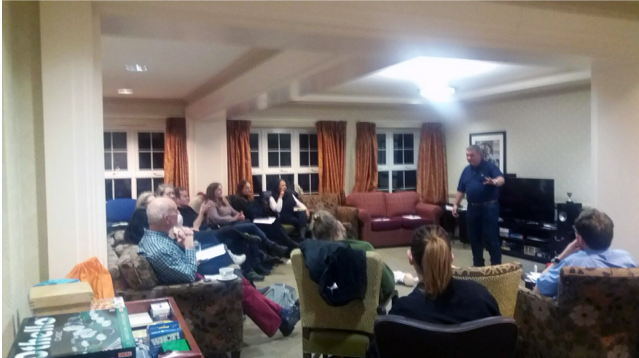 GP EDUCATION EVENTS:
In early February,
Mr Sam Singh
presented an educational talk to Beckenham-based NHS GPs during a lunchtime session, discussing common foot and ankle presentations including bunions, anterior ankle impingement, ankle injections, ankle instability and sprains, plantar fasciitis and heel pain. This discussion gave the GPs a platform for discussion to explore diagnosing pathology as well as recommending appropriate treatments available with LBO.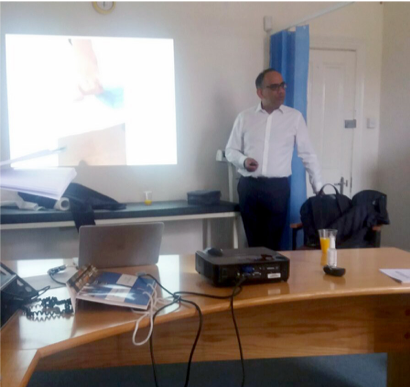 As the year progressed, several LBO consultants delivered a mini-masterclass at the Hilton, London Bridge, covering the latest developments in orthopaedics, with a special focus on examination in primary care, to GPs from London and the South East. The programme included:
Attendees of the masterclass commented on how helpful the talks were, 'giving simple GP-relevant content with practical advice on examining patients'.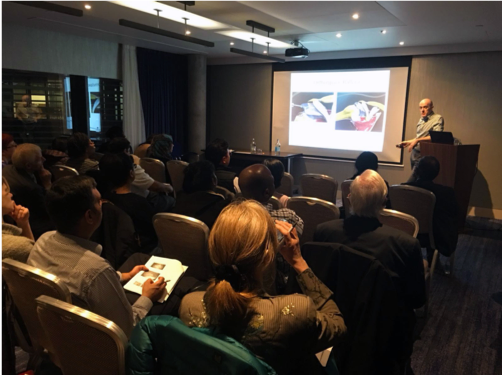 In early March
Mr Simon Owen-Johnstone
gave a talk to NHS GPs in Beckenham on common hand and wrist conditions, including tingling fingers, carpal tunnel syndrome, mucous cysts, trigger finger, pigmented melanoma and forearm pain.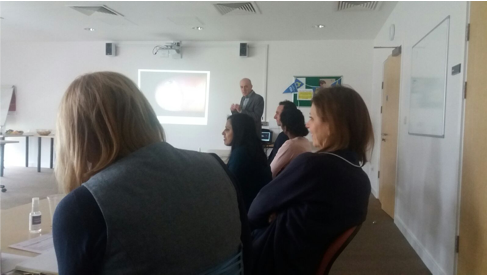 PHYSIOTHERAPIST EDUCATION EVENTS:
February saw two further events hosted by LBO. The first was a presentation from
Mr Simon Owen-Johnstone
and
Mr Joydeep Sinha
to Senior Physiotherapists from Crystal Palace Physio at No. 1 London Bridge. This tutorial started with main conditions causing shoulder pain and a focus on multidisciplinary team collaboration for effective management before opening up the floor for discussion of surgical versus physiotherapy-based treatment for complex cases. The second event was led by
Mr Khai Lam
who performed a minimally-invasive anterior lumbar disc replacement surgical procedure at St Olaf House (London Bridge Hospital), which was live-streamed for a group of physiotherapists. This was followed by a Q&A session with
Mr Lam
regarding spinal navigation and when to refer to a specialist consultant.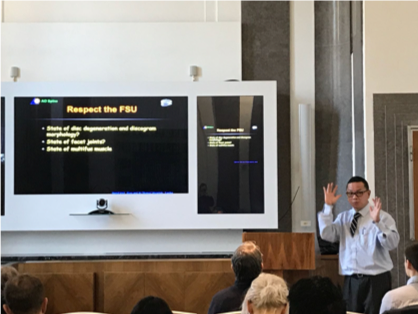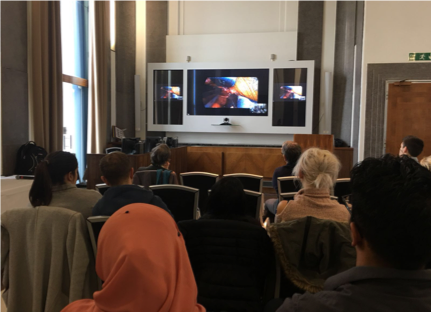 In early March,
Mr Kavarthapu
gave a breakfast talk updating physiotherapists from Central Health Physio on the latest developments on when to refer patients with hip problems, with the view to help manage particularly busy clinics.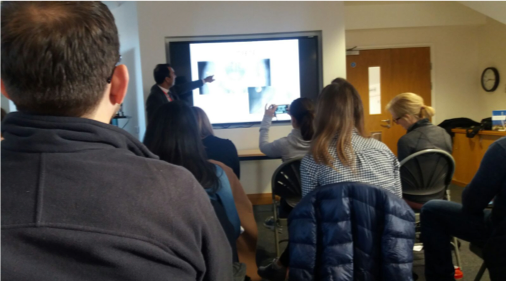 Mr Martin Klinke
(foot and ankle surgeon) and
Mr Joydeep Sinha
(shoulder surgeon) presented to physiotherapists from Capital Physio later that month at the LBO headquarters in the Shard. This first half of this talk encompassed causes of forefoot pain (including Morton neuroma and diabetic foot ulcers), as well as optimal footwear to relieve pain in these scenarios, how to release tight calves and the pros and cons of operative vs conservative treatment of Hallux Rigidus. The second half focused on shoulder pathologies such as adhesive capsulitis and management of severe shoulder injuries.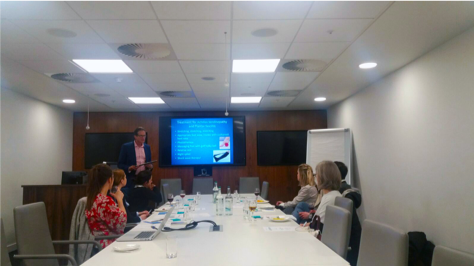 Spring brought several more physio-targeted events.
Mr Sam Gidwani
and
Mr Simon Mellor
delivered workshops to city-based physios in the LBO headquarters at the Shard, including practical demonstration of scaphoid fracture examination and common presentations of shoulder problems and the necessity for surgery in these cases. Later in the week,
Mr Simon Owen Johnstone
delivered another physio-targeted breakfast talk on the Glenoid Labrum; anatomy, common variants, clinical presentations of pathology and clinical examination.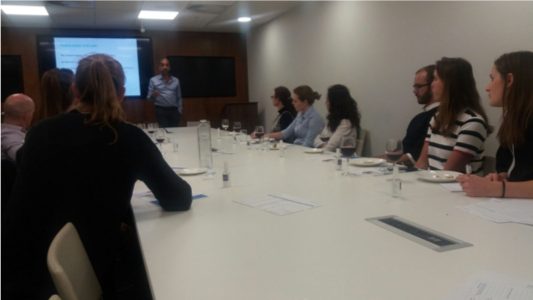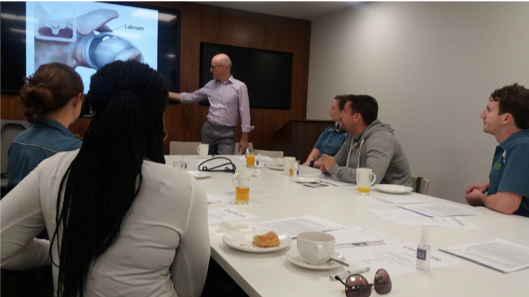 In late May,
Mr Khai Lam
, consultant spinal surgeon, performed another live-streamed surgery. Following an introduction outlining diagnosis, anatomy and bio-mechanics of sacro-iliac joint pain, an O-arm Computer Navigated Minimally Invasive SIJ Fusion procedure was broadcast from London Bridge Hospital. This was concluded by a physio-led discussion from Abhi Tikkisetty on appropriate rehabilitation following this kind of surgery.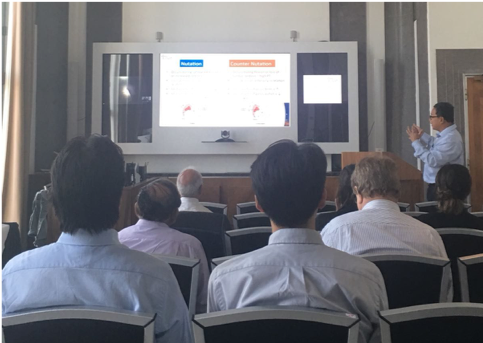 NETWORKING EVENTS:
Following these events, members of the LBO group, including consultants, GPs and physiotherapists from across central London, attended a fine dining event at Kaspar's (Savoy hotel, London), which provided a more informal networking platform for interdisciplinary case discussion.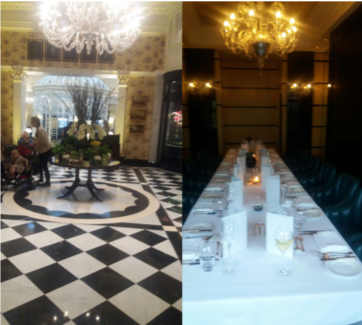 OTHER TALKS BY LBO SPECIALISTS:
http://www.londonbridgeorthopaedics.co.uk/2018/06/07/physio-educational-talk-to-central-health-physio-presented-by-the-shoulder-surgeon-adel-tavakkolizadeh-on-7th-june-in-the-city/
LBO is leading the way with educational and networking events to connect primary care-based GPs and physiotherapists with orthopaedic specialists, as well as supporting essential CPR and basic life support training across London, striving for optimal patient care.
Watch this space for more exciting events coming up!
Find out more about the services offered by
London Bridge Orthopaedics
This article is for information only and should not be used for the diagnosis or treatment of medical conditions. myHealthSpecialist makes no representations as t

o the accuracy or completeness of any of the information in this article, or found by following any link from this article

. Please consult a doctor or other healthcare professional for medical advice.
---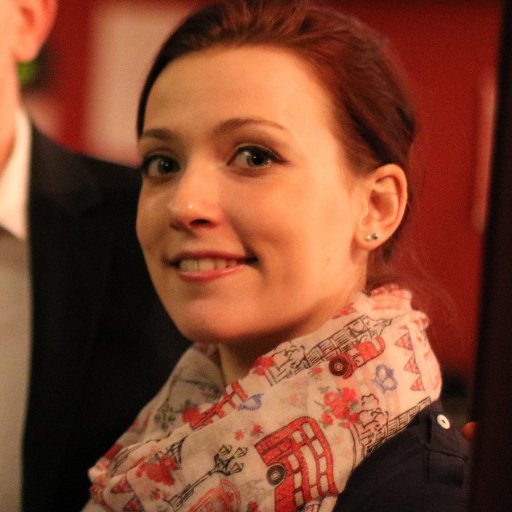 Bethan Tyler Final year medical student, Kings College London